The Hudson ELL department updates a board with the home countries of students. Since the Brazilian economy crashed in 2015 and 2016, a growing number of students from the country have been emigrating to Hudson.
by Dakota Antelman
He wanted to buy more than candy bars with his daily salary. But that's all he could afford in Brazil even while working at a sushi restaurant.
In October of last year, a male student, who has asked not to be identified by name, and his family decided to leave Brazil, a country marred by nearly a decade of economic depression and political corruption. He was the first to emigrate, landing in this country with only a basic understanding of English and just one family member here.
Meanwhile, the rest of his immediate family is back in Sao Paulo, Brazil, gathering money to join their son in Hudson.
His experiences match those of several Hudson High School students. They come from different parts of Brazil, but the majority of them are here because they saw no economic future for themselves in South America.
"We were trying to live there. My dad has a job at the court, but things were bad because everything is expensive and the payment is low," the male student said. "My aunt was over here, and she said the life is better here. So we came here and are trying."
Brazil's Economy Crashes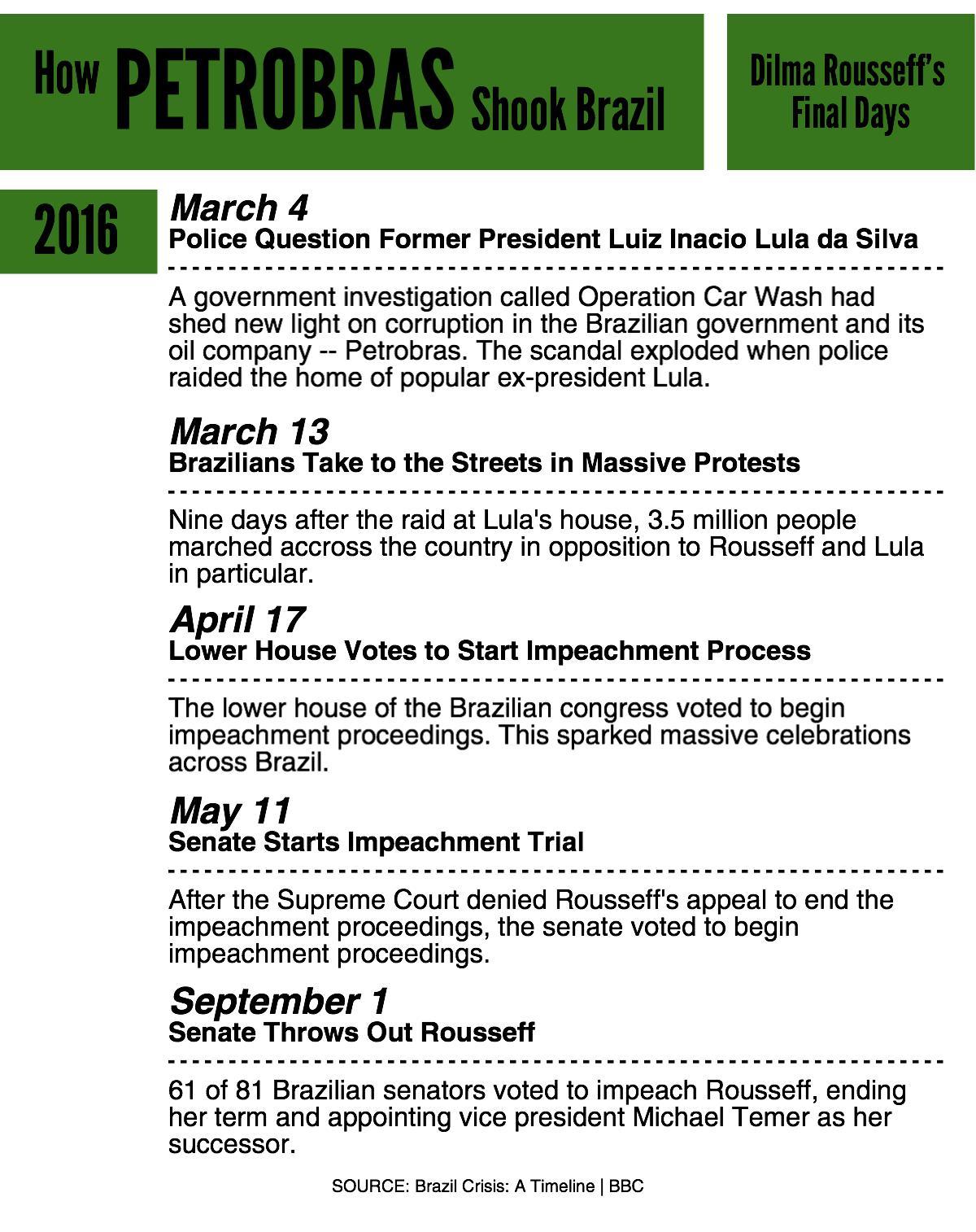 While much of the rest of the world was struggling with the Great Recession in 2008, the Brazilian economy was booming. It ranked sixth out of all countries in 2011 after seeing its economy grow by 7.5% the previous year, according to the New York Times.
But in 2014, investigators exposed a then decade-old illicit system of financial kickbacks between the Brazilian government and one of its largest oil companies, Petrobras. Company officials fixed prices, inflated costs and got involved in a series of bribes allegedly worth $3 billion.
At the time, the Brazilian government owned 51% of Petrobras, and the Brazilian president at the time the scandal broke, Dilma Rousseff, had once been the company's chair. She and other members of her Workers Party used illegal Petrobras money to fund their own campaigns.
The scandal prompted massive protests, violent crowd control measures by government riot police, and, eventually, the impeachment of Rousseff and dozens of other government officials in 2016. But the responses in the streets and courtrooms were not enough to curb the economic devastation the scandal wrought.
Average monthly income in Brazil plummeted to its lowest point in three years according to Trading Economics. The unemployment rate nearly doubled from 6.5% in January 2015 to 12% by the end of 2016 and, between March 2015 and March 2016, the Brazilian Real lost nearly a quarter of its value when compared to the U.S. dollar.
"You just got used to it," the male student said of the economy. "Everybody has to struggle to pay the bills. Politics are crap too. Everybody [the politicians] steals money. Everybody would go to the street to protest, but that didn't help. So we just had to keep going. That's why my dad decided to send me here because he knows that it won't change."
Indeed, economists predict the crisis will get worse before it gets better. Trading Economics predicts that the unemployment rate will climb to 12.3% this year, potentially leaving nearly 12.5 million people without work in Brazil.
Brazilian Economy Pushes Teens to Hudson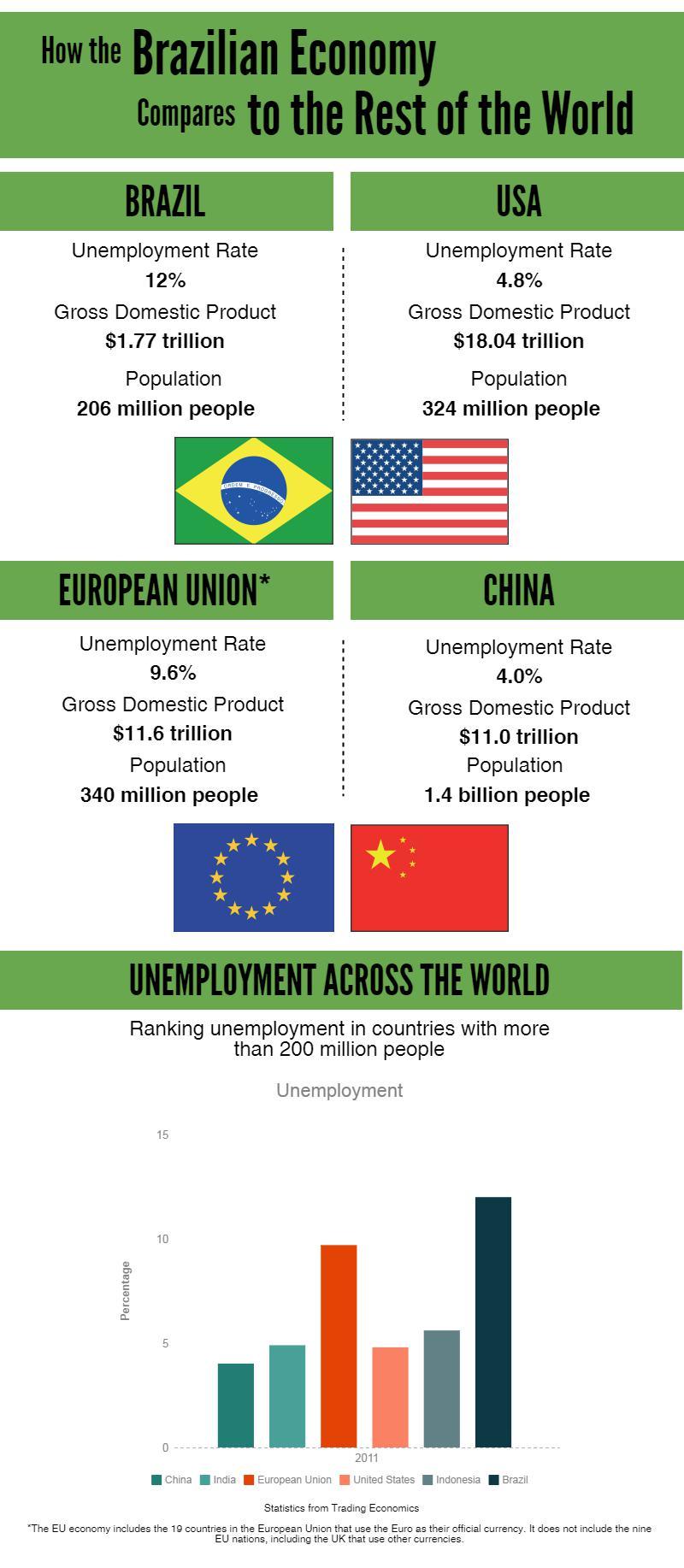 As the unemployment rate rose in 2015 and finally spiked by nearly 3% in a matter of months in early 2016, many of the teens now studying at HHS saw their lives changed.
A female student who also requested anonymity is one of those teens. She emigrated to the US in August 2015, just as the Petrobras scandal and the subsequent recession began to intensify. Her father had been working in the same job cutting metal in a factory for at least 12 years but was suddenly seeing coworkers laid off or fired at an alarming rate.  
"The company was just firing everybody, and my dad got scared because he thought he would be the next person," she said.
Her mother faced a similar situation. She had been working in the same job for two years after she was laid off in 2013. Before they left Brazil, the female student's mother saw similar cuts taking place in her workplace.
"My parents had good jobs," she said. "They had their lives there. But they were scared because the economy was decreasing and decreasing. They knew that there would come a time where they would be fired; they wanted to prevent that by coming here."
The female student's parents now work as manual laborers in the region.
"My dad especially, he doesn't like to stay at home and not work," she said. "It makes him feel bad, so he got the first job he could here."
While the male student's father enjoyed more job security than the female student's parents, he too was impacted by the struggling economy. In fact, the male student's family was close to selling their car as a way to make ends meet before his father visited Hudson where his aunt lives.
"My dad came here to visit my aunt, and he saw everything," he said. "He saw the school, the houses, and my aunt talked to him a lot. He got back and said, 'We're going to move to the United States,' and we said, 'You're lying.' Three months later, I was in an airplane."
Since arriving in the US, the male student has begun working a weekend job. He now enjoys more economic independence than he did in Brazil.
"Thing are so expensive, so even if I have money in Brazil, I can't get anything," he said. "I can just buy candy. Here I can buy a car if I want to."
Students Adjust to Life in the US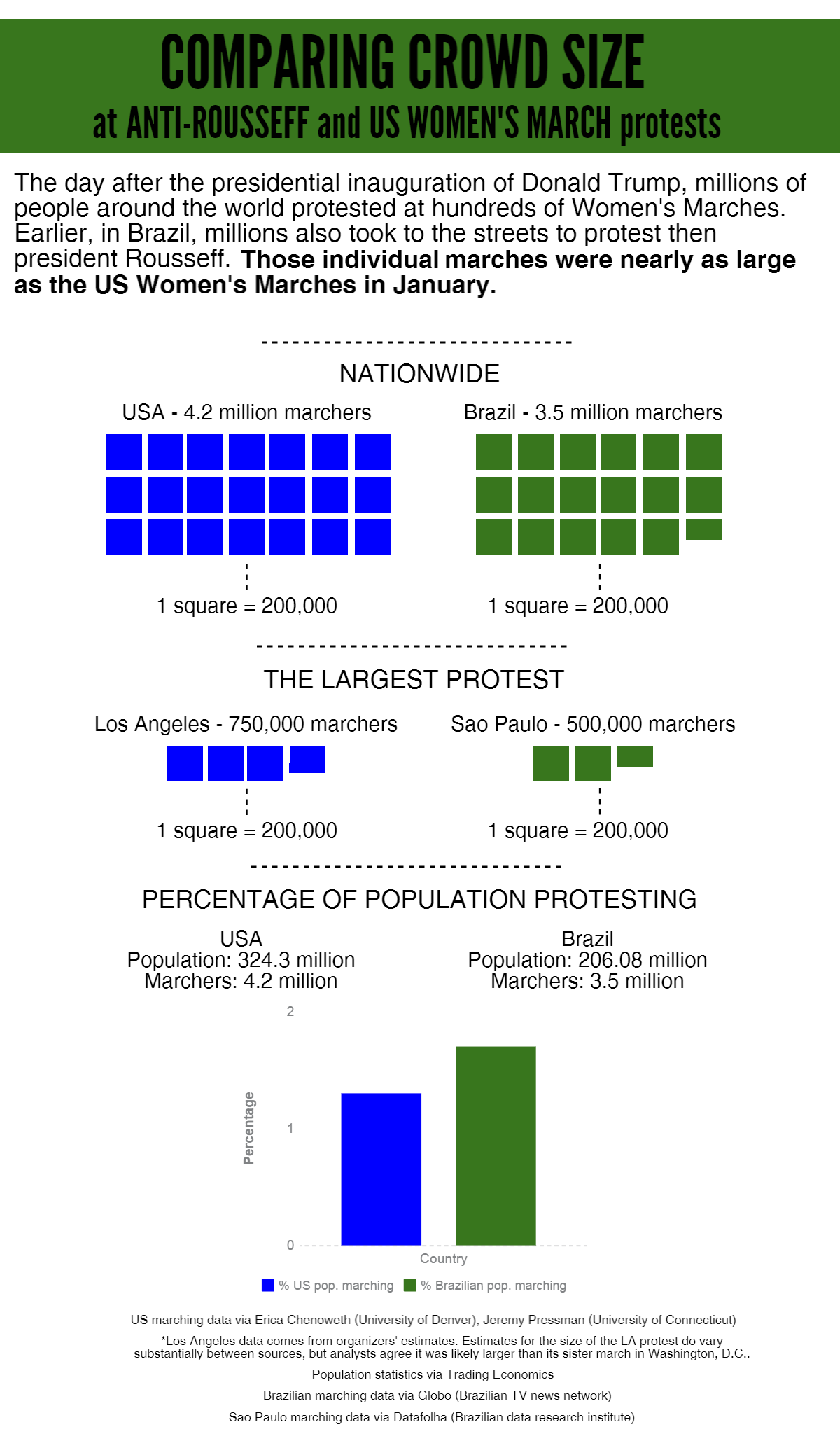 While students are excited to live in the United States, where the economy is better and the political system is more secure, they have not necessarily enjoyed a perfectly smooth landing in their new country.
The female student spent time in three schools in different states at the beginning of the 2015-2016 school year. 
"For a person who didn't speak English, that was really hard," she said. "I would make a friend and then change everything."
Both students' families, likewise, struggled to leave their homes behind.
"My parents had their friends there," the female student said. "They left my grandma, everybody there. I miss them too, but, my parents, they haven't made a lot of friends here like they had in Brazil because they lost friends that they had known since elementary school."
Still, for both students, the benefits of moving to the United States far outweigh the struggles of doing so. The male student said his private school outside of Sao Paulo, Brazil, was roughly the size of the Hudson High School library. It had 300 students.
"Everything here is so organized," he said. "Everything is awesome. This school is public. If this school was in Brazil, only rich people would go to it."
The female student hopes to go to college to pursue a career in medicine or teaching.
The male student also wants to go to college. He, however, wants to follow his father's path into a career in the courts. He wants to be a lawyer.
Students See Futures in the US
Both students had to leave their families and friends behind, and they both had to learn English in a matter of months after their families decided to move.
The male student learned English through a mixture of lessons from his father, who was already mostly fluent, and by watching American movies with their original English dialogue.
Indeed, many of those movies do project a larger-than-life view of America and its society. Having left the economic and political stagnation of Brazil though, he said they have been more accurate than many would expect.
"It's like a dream," he said. "Everyone in Brazil dreams of being here. It's like a movie."