Nemerowicz Excels in Rookie Bryant Season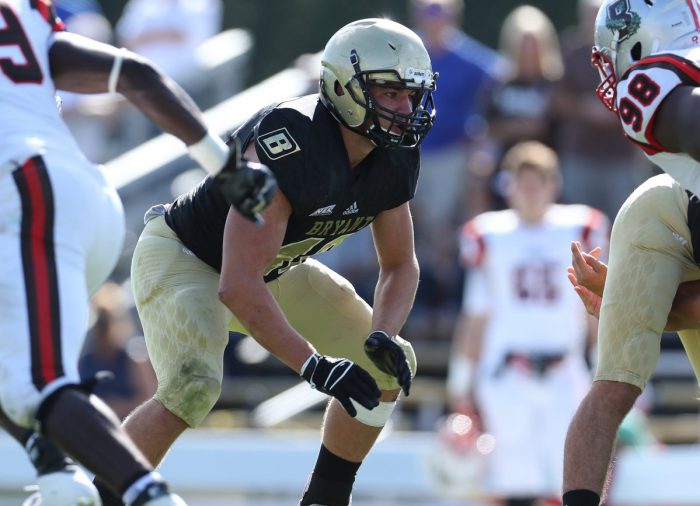 by Serena Richards
After a standout senior football season at HHS, linebacker Jesse Nemerowicz committed to Bryant last year and found unexpected success on the field this season, surpassing even his own expectations.
"[Nemerowicz] put together the greatest rookie season for a defensive player in program history," according to his Bryant football bio. He is also the third player in Bryant football history to reach over 90 tackles in his rookie season.
During the season Nemerowicz played 11 games, ending his season with 91 tackles and one interception. He also set a freshman record with 14 tackles during a game against the University of Maine.
Even with a record-setting rookie season that features him being ranked number four in the NEC for tackles, there was a major transition from high school to college ball.
"I believe that nothing can really prepare you for the amount of commitment you have to put in once you finally get to summer camp that first day of freshman year," Nemerowicz explained."College football is different physically and commitment wise than high school ball in that the game itself is a lot quicker and harder to play. Also instead of being a casual game that you would play after school, it's now like a full time job."
Nemerowicz explained how the off season is pretty full as well, working at football five days a week either running and/or lifting. But he says that a good sense of time management, alongside various programs the school offers, helps student athletes balance their sports with academics.
Nemerowicz is excited for his next three years at Bryant, saying he doesn't like to set goals for himself, but he would rather see the team win their conference championship and get a ring.
Last Friday, Nemerowicz was also named one of the defensive players of the year for Bryant, based off his record-setting rookie season.  
"The only other thing I would add is that the amount of friends and good relationships football has fostered since coming here [has been great]," he said. "Bryant has a great atmosphere, and I'm glad to be playing here."