Hudson Wins Appeal for Football Realignment

by Cheyenne McLeod
After the district appealed the new football realignment in December, they learned that they had won the appeal in early February. Over February vacation the M.I.A.A released the updated schedule, lasting through the 2020-21 cycle.
Overall in the realignment, divisions were condensed and eliminated. Any division ending in an "A" was eliminated, and the schools in it were rearranged accordingly based on enrollment numbers. Teams in Division 2A were moved to Division 4 or 5, and Division 3A teams were moved to Division 5 or 6. With the removal of Division 3A, the M.I.A.A initially proposed for Hudson to move up from Division 3 to 4, making it hard for a small school like Hudson to play larger schools.
Following the December committee meeting appeal, the Hawks were approved to remain in the same division, which was renamed Division 5. Due to the realignment, the Hawks will play new schools, such as Littleton, Nipmuc, and Maynard and will no longer play Auburn, North Middlesex, and Gardner. Hudson will still play rival schools, Marlborough and Assabet.  
Coach McAnespie is happy with these changes.
"Everything is where we want it. We're in a league that we want and a division we want to be in."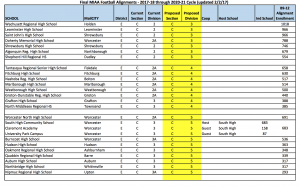 Final football schedule following the approval of the December appeal