Home
Features
Superintendent Candidate Highlights Similarities Between Hudson and Current Town During Forum
Superintendent Candidate Highlights Similarities Between Hudson and Current Town During Forum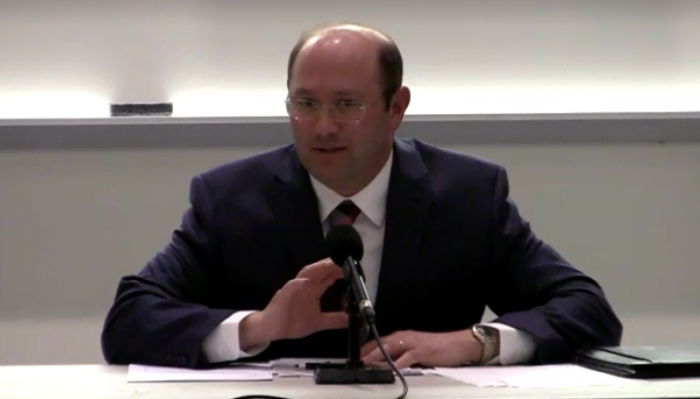 by Dakota Antelman
Hudson superintendent finalist Brett Kustigian highlighted the similarities between his current district and Hudson while he praised the state of the Hudson Public Schools during a pair of public forums Wednesday.
The sitting superintendent of the Quaboag Public Schools in Warren, MA, called Hudson a "diamond in the rough" after visiting its schools for the day. Later in his afternoon Q&A with parents and school committee members, he noted how his experience in Quaboag would enable him to address similar problems in Hudson.
"With a little polishing, this district could be number one in the state," he said, later adding. "The buildings are well maintained. In the classrooms, it's bustling. Students are working hard. Teachers are working hard, and principals are working hard as well."
After his remarks on the success of HPS, Kustigian addressed a number of concerns voiced by parents and staff since the superintendent search process started late last year.
Primarily, he reflected on his work to better the state rating of his current school district after he inherited a Level 3-rated district in 2009. Like it did in Quaboag during the early days of Kustigian's tenure, the state currently rates Hudson at Level 3. The rating tags Hudson as a district failing to narrow gaps in learning.
"My experience taking a Level 3 district and moving it up is another reason why Hudson is a place I want to be," he said.
Beyond the broad state rating system, Kustigian addressed the specific issue of growing ELL populations in schools. As recently as the 2014-2015 school year, Quaboag had five ELL students. The next year, Kustigian said, that number jumped to 30. It continued to increase the following year, reaching 50 students.
Hudson itself has seen a rapid rise in ELL students joining the school. For at least two years, it has been trying to add ELL teaching positions to alleviate massive caseloads, particularly at the middle and elementary schools. Budget cuts have slowed the expansion of the ELL department, however, as, last spring, the district cut a proposed ELL coach position to avoid a larger shortfall.
Calling the cuts he has had to make in his own district "the worst days of a superintendent's job," Kustigian sympathized with Hudson's budget woes and laid out his strategy for cuts.
"These are decisions that I look at and try to affect students last," he said. "You try to look at every possible place before you look at the classroom for cuts."
Kustigian did circle back to discussing the strengths of the Hudson Public Schools before ending the forum. He described his ideal district as one where students are excited about school and like coming there. In Hudson, he said, he sees that.
"After seeing the district today, my decision to come to Hudson has been reaffirmed," Kustigian said. "You've got great people here. You've got a tremendous amount of resources. You've got buildings that are in tremendous shape. You've got a student body that is happy. You've got a climate in each one of the buildings that is awesome. It's a really really good vibe."
Kustigian was the third and final finalist to visit the district. The school committee now plans to deliberate and vote to appoint a successor to outgoing superintendent Jodi Fortuna on Thursday at 7 p.m. at the school administration building.
The Big Red will be following the superintendent search until after the vote to appoint. Check back regularly for updates as the district holds new meetings!