Wellness Department Encourages Self Defense Course for Senior Girls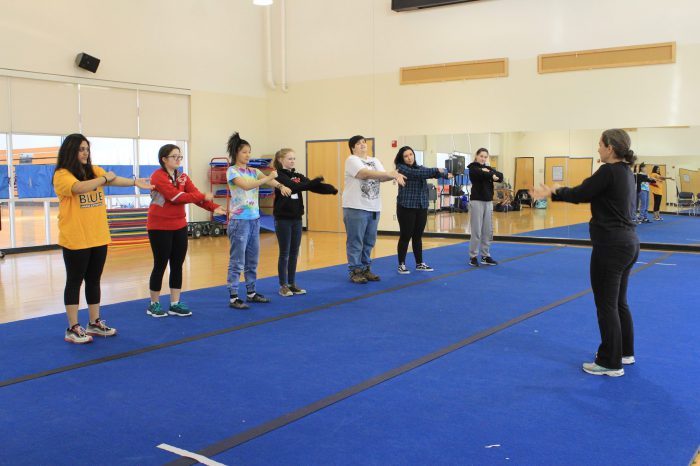 by Cheyenne McLeod
The Wellness department hosted an afterschool self-defense class for senior girls. IMPACT is a nationally recognized abuse prevention and self-defense organization. What would've cost $5,000 was offered to senior girls for free. The course consists of twelve hours of training, which started on March 13, 2017, and ran after school for four hours over the course of three days.
"It's only meant for 18-year-old girls, and really they're (IMPACT) aiming for those going to college because the assault rates at college level have increased." Wellness teacher Dee Grassey said.
According to the Boston Globe, a total of 784 "forcible sex offenses" were reported during 2015 at 60 colleges in our region, including some of the area's largest and most well-known institutions, after reviewing the figures that schools are required by federal law to collect and release each year. The numbers are still believed to undercount the true number of sexual assaults occurring on campuses because so many sexual assault cases go unreported.
Grassey reports only positive results from taking IMPACT's class. "I think they've gotten much more self-confidence, and they're less fearful if they're gonna be in a situation like this," she said.
"They really incorporated these moves into muscle memory very well. I learned about my own strength and about what I could do that I didn't know I could do before," senior Seema Patel,  a student in the class, said.
"Because it was free, I thought it would be a nice thing to have with me in college. Plus it's a good skill to have, and I can also teach people," Patel said.
Grassey continues to stress the importance of being able to defend yourself in the event of an attack. "It's very dangerous. Campuses can be dangerous. Anywhere could be dangerous really. This teaches them not only verbal protection but also physical protection and also protection against sexual assault."
If a student missed the session held in March, there is an upcoming opportunity for senior girls to take the self-defense course.
On May 18 and May 19*,  there will be two, six-hour classes available for 18-year-old senior girls, following final exams. Final exams should end at 10 a.m., and the class will run from 10:15-4:15 p.m. on that Thursday and Friday.
All senior girls are encouraged to attend this life-saving course. 
*Class dates and exam times are subject to change; see Ms. Grassey for more information.