Unified Track Hopes for Another Successful Year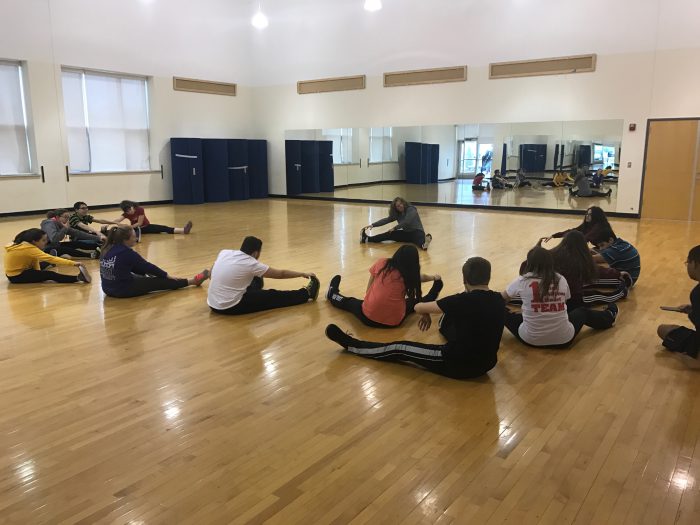 by Alex McDonald
Last year, the Hudson High School Unified Track program won the state championships, and this year Coach Ghize hopes to be successful once again.
Coach Ghize, who had two children on the team last year, has returned for a second year. Although this is only her second year as a coach, she has been involved in the Special Olympics for over 10 years.
Ghize runs practices similar to the way normal track practices are run.
"We start off with walking around [the track] warming up, and before we go downstairs, we will do some walking, stretches, and then we will run a little bit and have some races."
After the team races each other and does some running exercises, they do field events, such as javelin, shot put, and long jump.
They only practice two days a week, "so there is more time to be a student and have other activities when you are in the unified program," Ghize said.
As a coach, Ghize likes to motivate her team to do well in competitions, but she also likes to motivate them to exercise outside of school and to eat healthy foods.
"I tell them, 'If you don't think you are getting the wind you need when you are running here, then when you go home, drink lots of water and eat healthy.' Sometimes they need to be watched a little bit more carefully and guided along to stay motivated."
Ghize also observes that the kids on the team have a growing relationship with each other.
"There has been in the past, students that will contact other students and plan a mall trip, or maybe go to a movie. I'd actually like to see more of that. It's something that you can suggest, but I don't want to push it."
Her first year as a coach Ghize led the team to win the state championships.
Junior Wyatt Ghize said that the most impressive part of the experience was that they actually won. He also took home some medals for himself.
"I got one for long jump, 3rd place, and for 400 meters, I think I was sixth place."
He has been on the team four years, and he plans to continue throughout his high school career. He hopes that this year they can yet again beat their competition.
Wyatt also hopes that they can have equal success this year; however, some of their teammates are no longer on the team.
"We lost all of our seniors. They were all really strong boys, so this year we just have to pick up their slack, I guess," sophomore Alyvia Resendes said.
The Unified Track team begins its season competing against Marlborough High School on April 13 at home.