Ultimate Frisbee Starts Season after Seven Months of Practice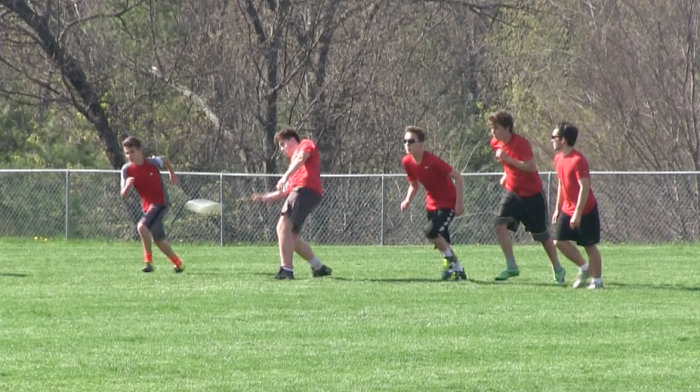 by Dakota Antelman
Ultimate frisbee player Jack Cecelya wore a shirt with the words "If you build it…" scrawled on it last Friday, a reference to the words Ray Kinsella hears in his cornfield in the movie Field of Dreams.
Indeed, he and 10 other HHS students, with head coach Mark Krans, built an ultimate frisbee team this past winter. On Friday, Bromfield came to play in Hudson's first match.
The team has been practicing in the HHS gym and on local fields since October. Their game Friday, however, marked a new step in expanding ultimate frisbee at Hudson High as the team began competing in interscholastic games for the first time.
"Ultimate is a beautiful sport," Krans said. "It's great competition. People who play ultimate love ultimate, and they play it for the rest of their lives. Just to give these kids an opportunity to play against the other high schools and whoever else we can play around here is a great opportunity."
The matchup kicked off a nine-game schedule that will take Hudson to a variety of nearby towns for games against teams including Nashoba, Billerica, Lincoln-Sudbury and Groton-Dunstable.
Bromfield, which is entering its fourth season as an organized program, did manage to beat the rookie Hawk team. However, they only did so late in a game which had been tied 7-7 after nearly two hours of play at Hudson's Intel Field.
After their team's eventual 8-7 win on a sudden death "Universe Point" score, even Bromfield coaches and parents remarked on the strength of the Hudson team in its debut.
"You guys must have been practicing," one parent said to Krans as she followed the Bromfield players off the field.
Though they lost, Krans and his players saw numerous bright spots in their debut. As their competitors noted, they say these bright spots were, in part, the result of nearly seven months of practice.
"I can throw a frisbee much better than I could going into this experience, which has been awesome," said junior Elizabeth Cautela. "We've grown closer together as well. We're friends now while we were just strangers before. We're definitely like a family. We have a lot of fun together."
Among the struggles for the Hawks was the introduction of heavy wind to their gameplay situations. Playing on the relatively open Intel field, the Hawks did often fail to connect with one another on long passes as their throws were frequently blown off course. They had not dealt with wind during their many months in the gym.
The game also marked one of the first regulation 7-on-7 games since the club started. Though their ranks have both swelled and shrunken since October, they have rarely had enough players show up at their early morning gym practices to run full team scrimmages. As of Friday's game, the team only had 11 players on the roster.
Though they may not have been running full games, however, Krans said the months of practices have already generated conversation about ultimate frisbee among students and teachers. Krans, who called Massachusetts "one of the hotbeds of ultimate in the country," noted his excitement about the growing popularity of the sport and his team in particular.
"The kids are loving it," he said. "The teachers are hearing about it. I'm having a blast. The kids work hard, they're teachable, they listen and they have improved so much in such a short period of time."
New and already improved, the Hawks are eying the season ahead of them in hopes of succeeding at the state tournament in Northampton on June 1.
Looking beyond this year, the Hawks are doing their best Kevin Costner impression and hoping that since they built it — their team — more players will come.
"We called it the Hudson Ultimate Experiment because we weren't sure if it was even going to take off and work out," Krans said. "It's taken off well, but we really need to grow, especially because four of our players are seniors who are going to be leaving at the end of the year. We want more young players to join so that we can build a legacy of the Hudson Ultimate Experiment."
Cautela echoed that sentiment, saying that she has already seen and heard enough from prospective players to think that ultimate frisbee at HHS will be successful beyond this still young season.
"It's something fresh," she said, later adding. "A lot of these kids have been playing the same sports for 10 years or longer than that. They've been playing softball forever or baseball forever, and they're tired of it and want something new. I think the future is pretty bright."