Volleyball Tournament Raises Money for MS Research
by Brianna Cabral
Over the last two years, Hudson resident Andrew Perna has organized a volleyball tournament to raise money for multiple sclerosis research. By the end of the tournament on May 7 he had raised $2,731 ($6,000 including last year's donations).
Fourteen years ago Perna's wife was diagnosed with multiple sclerosis, a chronic disease involving damage to the nerve cells in the brain and spinal cord that over time affects the function of the nerves and muscles. "The cause of MS is close to my heart. I know there's a lot of people that are connected to the disease in the Hudson community," Perna says.
To play in the tournament, each team must have five players, two of which are female. Each player pays $25 as commission.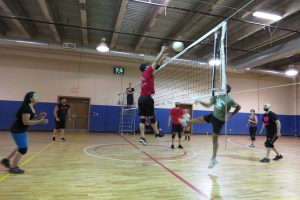 He also raises money through raffles. In addition to watching the teams play, people can check out the table displaying all of the prizes that businesses have donated. This year the Celtics donated a basketball signed by Isaiah Thomas, the Red Sox gave a signed photo, and DROXX (a local barber shop) donated a $50 gift card.
Eveh though Perna knows many people in the community, organizing these events can be challenging. "It's hard to keep everyone happy because everyone has got to find something that they don't like," he says. "But it's a lot of fun, and there's really not a lot of stress involved because I have so many people that help out."
This is not the only charity event they hold for the year. "We also do a walk every year," Perna explains, "and a muck run. I just thought [the volleyball tournament] was another way to raise more money for a cause so important to me."