Class of 2018 Officer Election and Results
Candidates for the 2018 class officers give their campaign speeches to their classmates.
by Serena Richards and Alex McDonald
The soon-to-be senior class voted for their class officers on Monday. In an uncontested race, Maggie Appel and Sammie Cirillo were named treasurers. The community council representatives, Elizabeth Billings, Allie Falcone, and Hannah Farrell, were also uncontested. The candidates gave their campaign speeches before the vote on Monday.
AJ Libby: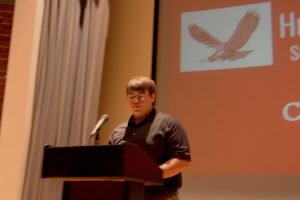 AJ Libby has held a position as a class treasurer for his last three years at Hudson High School. This year, Libby decided that he wanted to  change his direction. He decided he wanted to run for a class officer. "I feel like it's time to change things up a bit and bring new ideas to class leadership."
As a treasurer, in the past, Libby has collected dues and came before school on reverse half days to help with receipts. Next year Libby wants to take that dedication and "make senior year the best it could possibly be."
Libby sees himself as "a very sociable person. I talk to everyone. I try not to exclude anybody from my everyday life," and one of his strengths is that he is not afraid to stand up for himself and his ideas, but he is also not afraid to say no. "I have a moral compass, and that really guides me," he said. He hopes that his communication skills, experience, and his responsible record will win him a spot as one of the 2018 senior officers next year.
Carley Devlin: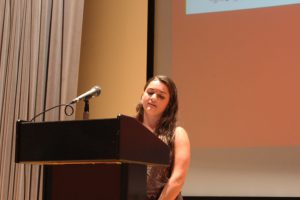 Devlin has been a class officer for the class of 2018 since her freshman year. Devlin is proud of the great work she and her fellow current class officers have done planning school events like Snowcoming and the Junior Prom. She also helped Junior Boosters with dodgeball tournaments.
Devlin's goal is to get more of her peers participating in the senior class activities and try to make more events to bring the whole school together. Devlin realizes that passing new schoolwide rules and adding new activities is more difficult "because people have said that in the past, and they don't really go through, but I think maybe more more events for everyone to come together would be nice."
When asked about why she should be re-elected: "I think my work for the past few years and everything we've already done shows that. With the work that we have to do in senior year, I'm eligible to do this like I already have."
Hannah Feddersohn: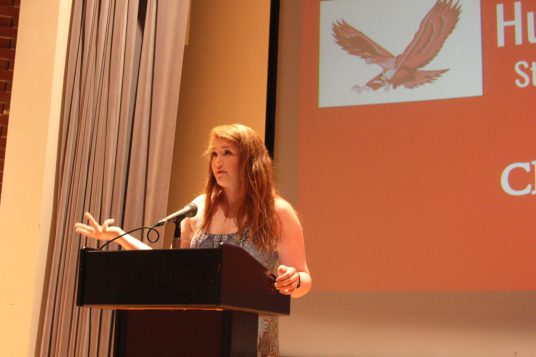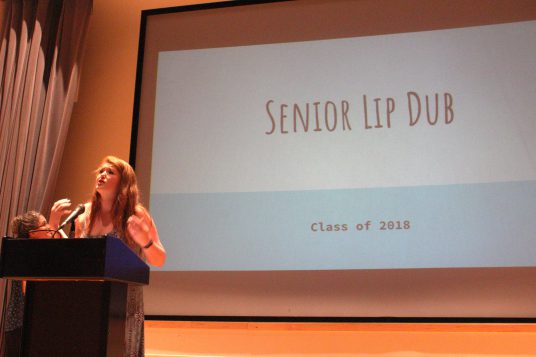 Even though this is Feddersohn's first year running, she has shown her commitment to the school and her class by also being the president of the UNICEF club, a longtime member of jazz and pep-band, along with being in Drama Society and a former member of the softball team.
When asked why she decided to run: "I feel like across the board a lot of our representatives are the same, and I wanted to bring some new aspects to it, and at graduation I want to be up there to really represent the class." Feddersohn has a lot of new ideas she's hoping to pass, like the Lip Dub, a full class lip sync to a song of the class's choosing where they can have fun and use it as something to look back on.
"I feel like we don't have an event that we all look back on, and we haven't done anything like this before," Feddersohn explains. She hopes to make Baccalaureate more casual, so more of her peers will perform. She wants them to be more comfortable, and for the experience to be more accommodating for those who want to perform but are not keen on the major pressure of performing in a formal atmosphere. "I want to give back to my class as much as Hudson High has done for me."
Tony Francolini: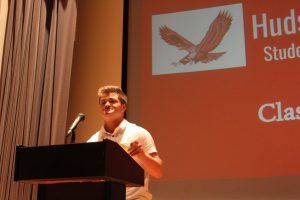 Francolini has been the president of the class of 2018 since his freshman year. Beyond that he does a lot of work with the Junior Boosters by helping put on many successful tournaments raising over $500. Not only has he raised a lot of money for the schools and clubs, but he also is proud of the $583 raised for the food pantry his freshman year.
Francolini is hoping to use these skills to put on several great senior events that bring his class together. "You can come up to me any time, and if anyone has any ideas, I would love to get them," Francolini explained when asked about his goal if he wins. After seeing the 2017 prom as a success, he hopes to repeat the process they used to make the prom great and apply it to many of the senior events.
Hanna Sanford: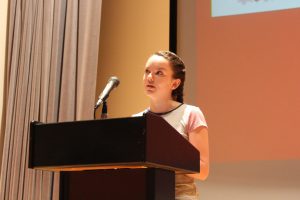 Hanna Sanford has been vice president for the past three years. As vice president, she has run dodgeball tournaments, planned prom, and done a lot of "Class of 2018 activities." 
Sanford hopes she can make the coming year great. "This coming year, I definitely want to make senior reception a lot of fun." Sanford would also like to make the class trip very memorable.
Sanford believes she could help make senior year great. She has never missed a class officer meeting and has worked very hard in the past to accommodate everyone. Sanford is hoping to use this dedication to further the the success of the senior class officers. 
"I think I am a personable person. I talk to everyone in my classes. I feel like I am a good voice and a good advocate for people who want to see change in this school."
On Tuesday morning, Principal Brian Reagan announced the new class officers for the class of 2018. They are Hanna Sanford, Hannah Feddersohn and A.J. Libby.