Some High Schools Change Start Times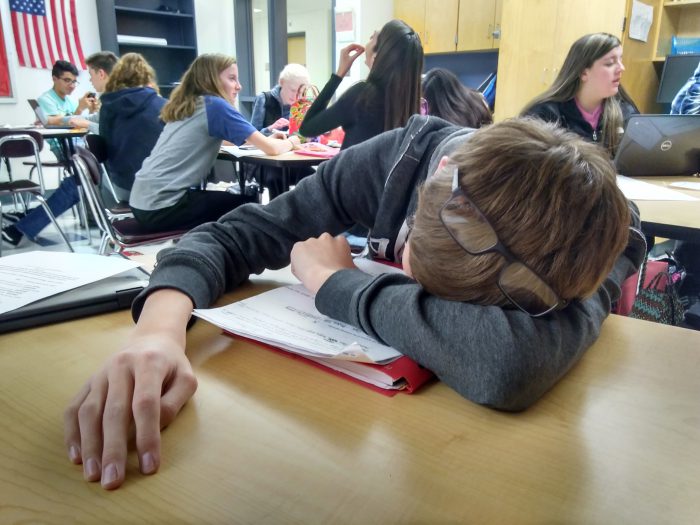 by Veronica Hayward-Mildish
The start times at many high schools and the sleep schedules of teenagers don't align, but some districts are trying to change that.
Teenagers cannot fall asleep until around 11 p.m.. With school starting at 7:30 a.m., this causes students to get around 6-7 hours of sleep. This isn't ideal for the typical student.
Some schools, such as Ashland High School and the Westborough district, have taken this into consideration and pushed off their school times, so the classes start later in the day. This allows students to get closer to the recommended 9 hours of sleep that many of them weren't getting before.
With 770 students, Ashland is slightly smaller than Hudson High School. The school started this conversation four years ago when they brought it up to the school committee. Once the school committee approved it, the proposal was brought into a research stage and, soon, to the superintendent. The research led them to push the school days back by 50 minutes, moving the start time from 7:30 a.m. to 8:20 a.m. The Westborough district is pushing their high school's start time back by 40 minutes, to 8:10 a.m.
Many students at Hudson High School want a later start time.
Freshman Julia Beatty gets 3 to 4 hours of sleep every night due to stress, so she naps whenever possible. She feels as if she would benefit immensely from a later start time.
"I would be able to do my homework because I won't need to take naps after school."
Though Principal Brian Reagan agrees with the research, there would still be major conflicts if the school changed the start times.
Since many high schools in our conference start at 7:30 a.m., there would be a conflict for sports teams because games would not start at the same time. This happened at Ashland, but the district solved this problem by pushing back the away games by about 30 minutes.
There's also a conflict with buses. "The bus schedule is really tight," says Reagan, "and if you adjust the high school start time and not any others, then they may become a cost issue."
Although these may have been issues in Ashland, they still changed their start time.
"It was a great decision," says Principal Kelley St. Coeur, who added that the attendance rates are improving. "I think it's the best thing for kids, and in a year or two it will just be the way it is. We have some logistics that will be tweaked next year."