Students Volunteer for New Tech Help Desk
by Jason Meserve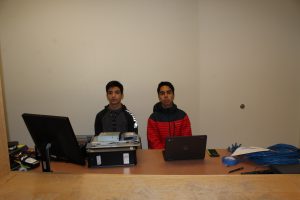 The Hudson Public Schools distributed Chromebooks for the first time ever this year to grades 8-10.  The school wanted a place for students to go to if they have any problems with their Chromebooks, so they formed a help desk. As they explored this idea, faculty and administrators visited Shrewsbury High School to look at their help desk and see what they do with iPads.
The tech help desk fixes any problems with Chromebooks and computers, including bugs, lag, and any other software and operating system problems.  They also try to reach out and fix projectors for teachers. The 4 members of the tech help desk are sophomores Bruno Capitao, Ryan Figueirido, Jack Napoleone, and Kelsey Kahn. 
Members of the tech help desk all have a passion for technology, and all volunteered for this job. They love handling and experimenting with technology. All kids in the program are self taught.
Some specialize in fixing the physical problems in the computers, and others specialize in fixing the software-related issues. Bruno Capitao fixes the software-related problems and helps with Aspen difficulties. He is now learning about fixing the physical parts of computers and learning the new operating system on Chromebook.
Each student also has to come up with an independent study project to work on for each term. For example, Capitao is making an app that stores a person's achievements, records, and strengths for future jobs or college.
The tech help desk is open during Blocks B, D, and E lunches, so if you have any problems with software or your computer, go over to the tech help desk next to the office. If you're interested in joining or learning about the program, you can ask media teacher Lynda Chilton about it.