Sophomore Pursues His Passion for Art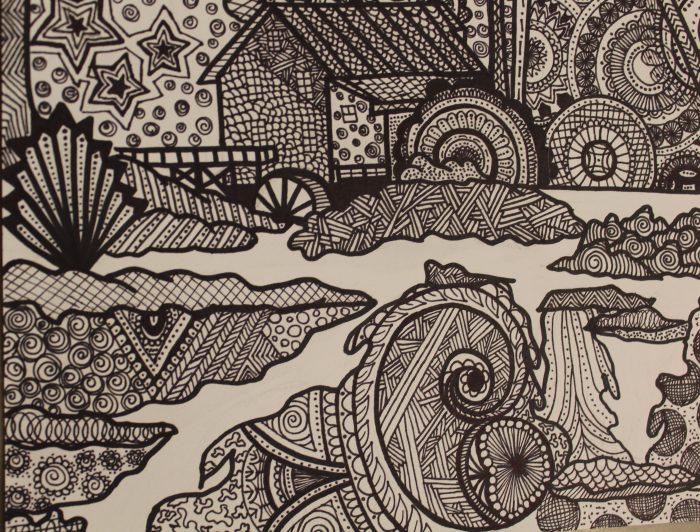 by Juliana Freeman
Sophomore Denis Bautista is a talented artist who started creating art when he was 5 years old. In the future, he wants to be an art teacher and own a clothing company. "I want to combine the things I love, for example, art and fashion," Bautista said. He wants to creates his own designs or create designs that the buyer chooses.
Bautista's passion for art began when his Spanish teacher showed his class some magazines about art and how people use art as a way to relax. He has had a lot of practice on his art to become successful. He started taking art classes when he moved to the United States in 5th grade.
"This has helped me grow as an artist because now I could have an opinion from someone who really has studied art," Bautista said. Finishing a piece of art takes him a few days depending on what he is doing. But if it's a drawing, it would take him around 5-6 hours.
Bautista loves painting, drawing, calligraphy, and even henna tattoo designs. He likes doing calligraphy when he writes because he likes to be different from others. Instagram calligraphy posts have inspired him to try calligraphy. Calligraphy takes him 10 minutes to do.
When he paints, he likes to paint the environment. "I feel that I'm different from other artists because when I paint or draw, I don't like my art to look realistic," Bautista said. He wants people to look at it from a different perspective, and he likes to be unique.
His favorite painting is called "The Sun Goes Down." He really likes the colors he used, and he liked how there was a sunset in the mountains. "I also liked the expression of the people who lived on the ranch because they had smiled and had a fun time with their family,"  Bautista said.
He is inspired by nature, and he gets inspiration from the events around him. He also likes to get inspiration from problems in society that have happened to him. "I think everyone is born with an external talent, but there are people who haven't taken the time to think about it or the time to follow their heart,"  Bautista said. "They are scared that their friends or acquaintances might reject them because of the choices they're making."
Throughout the years, Bautista has improved so much with art because he has been practicing more. However, he still has areas of his art that need work. This year, he is focusing on drawing people's faces. In addition to practicing, he plans to give his art as gifts to friends and family, creating signs for their rooms that showcase his calligraphy.