by Dakota Antelman
The English Department has long enjoyed success both in the classroom and on the annual MCAS test. But with the loss of funding and a reworked MCAS test scheduled to be introduced next year, its teachers and administrators are preparing to make adjustments to their instruction.
Over the past three years, an average of 91% of HHS tenth grade students, and an average of 77% of eighth grade students have scored proficient or higher on the English MCAS. In 2015, the last year for which such data was available, those scores put Hudson within just a few percentage points of the state average.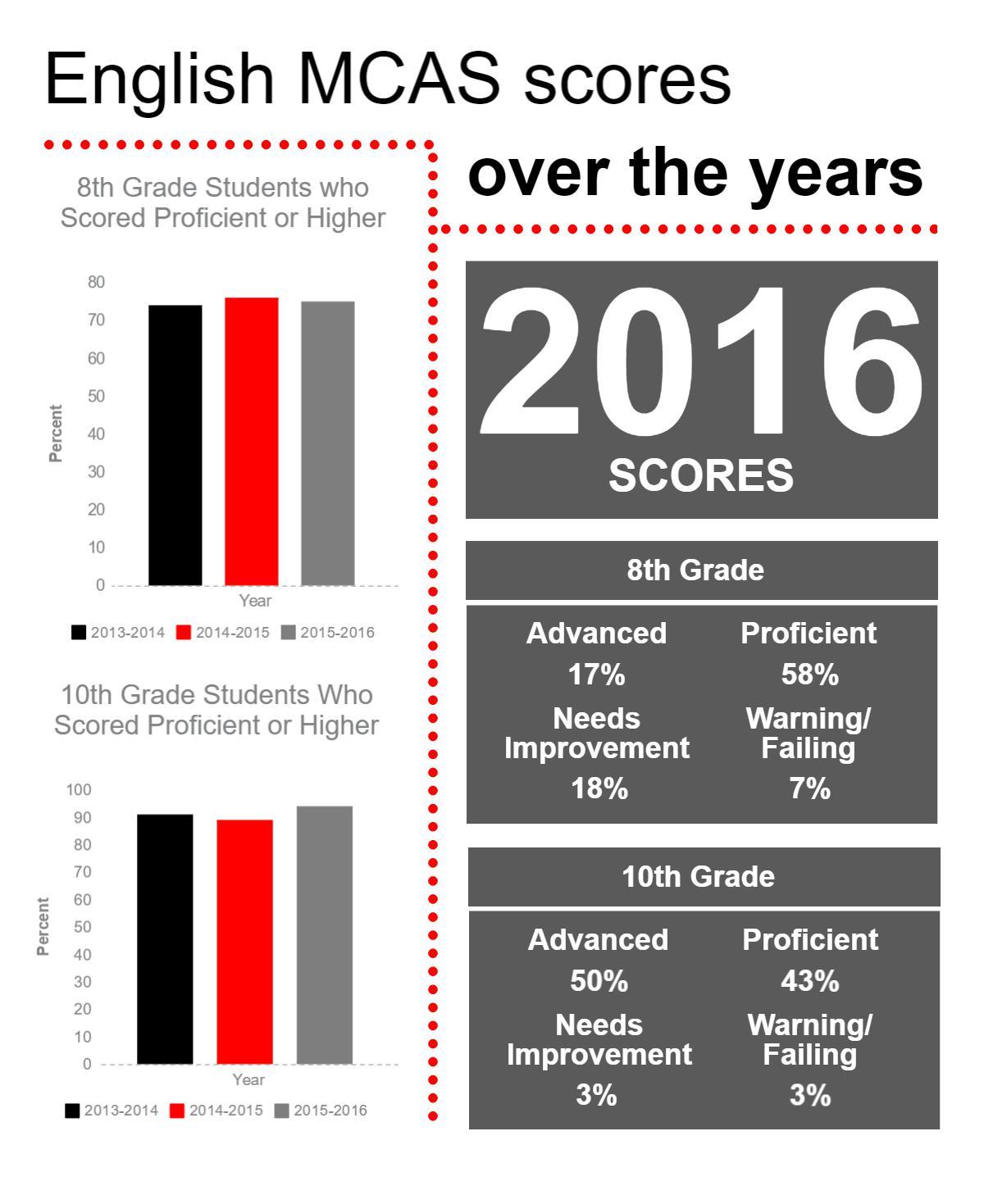 In the eyes of the state, specifically the Department of Education which considers MCAS scores in their rating of school district performance, these scores are key in proving that the English Department has been successful in educating its students.
For Curriculum Director Todd Wallingford, however, the scores are just a part of the feedback that he gathers about his courses.
"When you get to the test itself, it's a three to four hour test that kids take that is meant to sum up their literacy skills," Wallingford said. "It only covers a very narrow set of those standards. It doesn't assess any sort of speaking or listening skills, and there's really only one part that assesses writing."
Nevertheless, Wallingford heaped praise on the department's teachers, commending the teachers of tenth grade, who helped produce a 94% proficiency rate last year, for their work.
"They were solid," he said of the scores. "All tenth grade teachers along with students and parents are responsible for how well kids perform, but the English teachers do most of the test prep. They have good reason to be pretty pleased with those scores."
In tenth grade, the three English teachers regularly meet to coordinate their lessons and ensure that their grading practices remain constant. When MCAS or other student performance data comes in, the teachers are also able to discuss any changes they need to make to their lessons.
"We're able to look at that data and make decisions about the kind of writing assignments we're giving students or the supplemental materials we might bring into the classroom," English teacher Carol Hobbs said. "That's been a real boom for us to be able to sit together and talk about that."
Going forward however, those conversations may be taking place about new topics as the state phases in the planned MCAS 2.0 over the next two years.
With a new emphasis on synthesis and argument, Wallingford expects MCAS 2.0 to be "pretty different than in the past."
"[But] this is all in theory because the state hasn't shown us what the assessment is actually going to look like because they haven't designed it yet," Wallingford explained. "It's all just talk now of what it's going to be."
MCAS 2.0 is not the only change the English Department will have to deal with. The department recently lost funding for the afterschool MCAS prep sessions it has been running for years. The now cut program allowed students who needed test taking advice, review of concepts, or were nervous about the test to attend prep sessions beginning in February and running up until the test in March.
Without that in place, the department is currently working on new ways to prepare students for the test using class time.
For Hobbs, finding a way to adapt to these changes will be crucial in continuing the success that the English department has had at HHS.
"I do think that many students will not be serviced well if they're not aware of what that test looks like," she said "It's not that I want to teach to the test; I prefer that students explore literature, but I think that there are students who will do better and who will be less nervous and more prepared if they know what the format of that test will be."