by Serena Richards
With realignments in the 2017 football season, Hudson, Oakmont and many other schools oppose the new postseason divisions. Hudson, with 363 enrolled athletes, is the second smallest school, next to Oakmont with 348 enrolled athletes, in the new division. Many concerns have risen around this.
"When we were competing against teams in our C division [this past season], with like enrollment, that was a great move for us," Athletic Director Jessica Winders explains. "That was based off enrollment. It was where we fit. We were playing against schools that were similar sized to us."
"We want to make sure that we are placed in a division where we can compete," Oakmont's Athletic Director Eric Dawley shared.
It makes the postseason unfair, with small schools like Hudson or Oakmont, playing against schools like Worcester North or Nashoba, with almost double the amount of enrolled athletes.
Coach Dan McAnespie explained that his main concern is the bottom four schools, Oakmont, Hudson, North Middlesex Regional, and Grafton, being much smaller.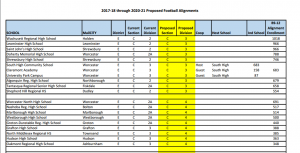 Although the size comparison is a concern, there are other reasons schools are opposing this. Traditional games are one of the other main concerns.
"The bigger concern for us is that we are giving away some of the history and tradition of opponents, that we have always historically played," Dawley said. "And our football program here has a lot of tradition, a lot of history. We have had a lot of success over the years."
Another concern is how this is going to affect the leagues through the proposed 2017-2020 seasons. "What will happen to league football? Will it even exist anymore, or will we have to play teams that are in our division, competing for the same four playoff spots each year," Dawley further explains, and Winders expressed similar concerns.
The only way a school can oppose this proposed alignment is by bringing an appeal to the M.I.A.A. football committee meeting. One was held Friday December 3; however, the outcome of that meeting will not be known until mid-February 2017.